Takachi's TWN4-2-6W
A frequently repeated bit of advice by the oemsecrets.com crew involves looking off the beaten path. When looking for a ready-made case for your electronic trinket du jour, taking a look at the offerings of Takachi is an interesting alternative to classics such as Hammond.
Based in - you guessed it - Japan, the company has, so far, largely been focused on the domestic market, making good use of the Galapagos effect described in this video. Watch Video Here. However, Takachi recently started to branch out to Europe - the TWN4-2-6W is one extremely interesting example of the breed.
When purchased from a distributor like Farnell, you get a tiny case which is 2×3.5×6 cm in size and has a white body color. The situation, however, becomes more interesting once you look into the datasheet of the product - our Japanese case supplier provides a wide variety of different case sizes outlined in the table.
The TWN4 family is available in various sizes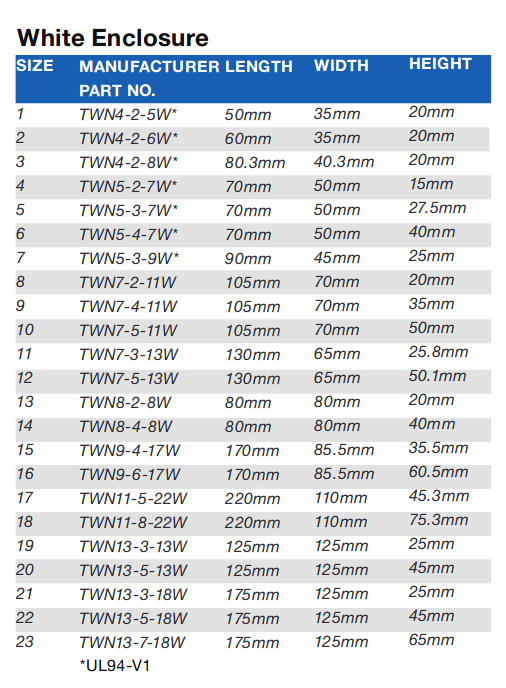 One especially interesting aspect of the product involves the availability of boots. This somewhat Japanese-English term refers to a rubber piece which can be tucked to the front and the back, giving the case both antiskid and slight antivibration properties – incidentially, Western Digital used a similar process in their external hard drives with great success.
Bringing a boot makes your case more resilient

Using a prefabricated case makes great sense especially when you are dealing with small production volumes-keep in mind that the set up for injection molding can easily eat up $10,000. Comparing this to Takachi's price of about three dollars when you buy 25 makes the product attractive for small series production.
Keep in mind that very small prototypes can be modified using a drill press in a fashion similar to figure 3. Alternatively, Farnell also offers a customization service for the TWN4-2-6W.
Author: Tam Hanna
Published: March 12, 2021