Traco Power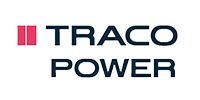 Traco Power is a Switzerland company specialised in designing and manufacturing high quality DC/DC and AC/DC power conversion products.
It was founded in 1944 and is still a family-owned company. Headquartered in Zug region called Baar, Traco Power offers first choice application solution for critical sectors, including: Industrial automation, medical & healthcare, railway & transportation, renewable energy & smart grid and building automation that offer utmost reliability.
Traco Power product portfolio consists of AC / DC power supplies, DC / DC converters, and DIN-Rail power supplies. These include series like TCL, TZL, TBA, TDN, TDR, TEA, TES, TMA, TME, TMR, TMV, TRN, TRV, TSM, TSR, TMLM, TMP, TMF, TML, TBLC, TIW, TXL, TPC, TSPC, TPP, etc.
Traco Power group has been very successful at product development and provides customers with optimal power supply solutions for performance, quality and cost for individual applications.
Browse products by Traco Power
Search, compare and buy electronic parts by Traco Power on oemsecrets. Browse parts by product category to find the best prices from distributors.
Cooling & Thermal Management