Texas Instruments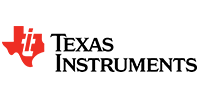 Texas Instruments (TI) is an American manufacturer of semiconductors and integrate circuits and mainly focuses on developing analog chips and embedded processors.
It was founded in 1930 and has a product line of around 80,000. Headquartered in Dallas, Texas, Texas Instruments is a listed company and has been credited to have discovered the first silicon transistor and integrated circuit.
TI product portfolio consists of DSP, MCU Microcontroller and analog technologies. These include amplifiers, audio, clocking & timing, data converters, motor drivers, power management, RF & microwave, sensors, switches & multiplexers, wireless, calculators and education technology, DLP products.
Texas Instruments has been very successful at product development and hold over 45,000 patents worldwide.
Browse products by
Search, compare and buy electronic parts by on oemsecrets. Browse parts by product category to find the best prices from distributors.
Development Boards Evaluation Tools
Development Boards, Evaluation Tools
Education Maker & Hobbyist Electronics
Electronic & Electrical Components
Embedded Computers Education & Maker Boards
Embedded Computers, Education & Maker Boards
Optoelectronics & Displays
Semiconductors - Discretes
Wireless Modules & Adaptors