Harting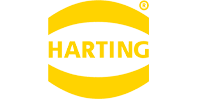 HARTING is a leading developer, manufacturer, and distributor of electrical and electronic connectors, device terminations, backplanes, network components, and cable harnesses for use in networks, machinery, and power and data applications in factories. Their products are widely utilised in mechanical and plant engineering, broadcast and entertainment, factory automation, power generation and distribution, industrial electronics, and telecommunication. HARTING has a rich history of innovation, having invented the rectangular connector in 1965 as a response to the need for an alternative to circular Mil Spec connectors. Since then, HARTING connectors have become the global standard for industrial connectivity.
Browse products by Harting
Search, compare and buy electronic parts by Harting on oemsecrets. Browse parts by product category to find the best prices from distributors.
Automation & Process Control
Cable Wire & Cable Assemblies
Cable, Wire & Cable Assemblies
Education Maker & Hobbyist Electronics
Electronic & Electrical Components
Embedded Computers, Education & Maker Boards
Office Computer & Networking Products
Office, Computer & Networking Products
Static Control, Site Safety & Clean Room Products
Tools & Production Supplies