STMicroelectronics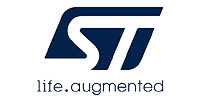 STMicroelectronics is a global independent semiconductor company and a leader in developing and delivering semiconductor solutions across the spectrum of microelectronics applications.
STMicroelectronics is a Netherlands manufacturer but with a global presence. They are at the forefront of System-on-Chip (SoC) technology with products that play a key role in enabling today's convergence trends.
It was formed in 1987 through a merger of SGS Microelettronica (Italy) and Thomson Semiconducteurs (France) and went public in 1994 on both Paris and New York stock exchange. It has since acquired a few subsidiaries within its brand. Headquartered in Geneva, Switzerland, STMicroelectronics offers wide range of innovative semiconductor solutions for numerous applications.
STMicroelectronics product portfolio is one of the broadest in the industry consists of Microcontrollers (general & secure), Integrated circuits, MEMS sensors & actuators, Memories, analog, Serial EEPROM devices, advanced digital & radio frequency (RF) devices, power and energy management. They are also very active in the automotive industry with a few patents under their name.
STMicroelectronics have a combination of silicon and system expertise, Intellectual Property (IP) portfolio, manufacturing strength, and global strategic positioning.
Browse products by
Search, compare and buy electronic parts by on oemsecrets. Browse parts by product category to find the best prices from distributors.
Development Boards Evaluation Tools
Development Boards, Evaluation Tools
Education Maker & Hobbyist Electronics
Electronic & Electrical Components
Embedded Computers Education & Maker Boards
Embedded Computers, Education & Maker Boards
Optoelectronics & Displays
Semiconductors - Discretes
Wireless Modules & Adaptors