Maxim Integrated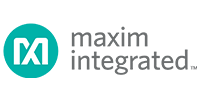 Maxim Integrated is an American manufacturing company that develops Integrated circuits for automotive, industrial, consumer, communications and computing markets. It was founded in 1983, with headquarters in San Jose, California. Maxim Sensirion has global reach with design centers, manufacturing facilities, and offices throughout the world.
Maxim Integrated product portfolio includes sensors, analog ICs, interface ICs, digital ICs, power and battery management ICs, communications solutions, embedded security, and microcontrollers.
Maxim Integrated has been very successful at solving engineering problems and empowering design innovation, enabling our customers to create products that shape our world. Their innovative and high-performance analog and mixed-signal products and technologies make systems smaller and smarter, with enhanced security and increased energy efficiency.
Browse products by
Search, compare and buy electronic parts by on oemsecrets. Browse parts by product category to find the best prices from distributors.
Development Boards Evaluation Tools
Education Maker & Hobbyist Electronics
Electronic & Electrical Components
Embedded Computers Education & Maker Boards