EAO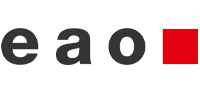 EAO AG, a Swiss family-owned company established in 1947, has emerged as a leading global manufacturer of high-quality switches, keyboards, advanced control elements, and comprehensive HMI control units and systems. EAO has production facilities in Switzerland, Germany, North America, and China, as well as 10 country sales companies and distributors in more than 50 countries, ensuring global availability 24/7. In addition to their exceptional products, EAO pride themselves in offering their customers efficient and modern development processes, effective global supply chains, and expert project and consultation management.
Browse products by EAO
Search, compare and buy electronic parts by EAO on oemsecrets. Browse parts by product category to find the best prices from distributors.
Automation & Process Control
Cable, Wire & Cable Assemblies
Electronic & Electrical Components
Enclosures, Racks & Cabinets
Office, Computer & Networking Products
Optoelectronics & Displays
Tools & Production Supplies