Panasonic AMG8833 – FLIR for cheap
FLIR made infrared thermal sensors cool – sadly, their parts are all but cheap (and suffer from export control problems). Panasonic's Grid-EYE family is a low-resolution alternative that comes at a significantly lower cost.
From a technical point of view, Panasonic's image sensor could not be simpler. We are looking at an 8x8 sensor with an individual resolution of eight bits – it can provide either one or ten frames per second via an attached I2C bus.
Objects can have temperatures of 0 to 80 degrees centigrade for the high gain model, while the low gain version of the sensor allows for an extended temperature range of -20 to 100 degrees. Interestingly, the operating temperature of both sensors is maxed out at 80 degrees, which adds the requirement of at least some kind of thermal insulation.
If you ever felt like an I2C thermal sensor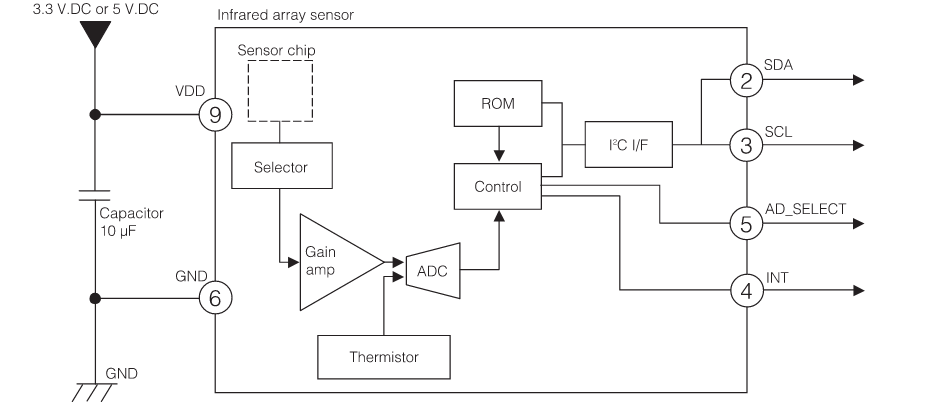 The relatively small housing size makes AMG8833 hand soldering difficult. Panasonic addresses this problem via the Grid-EYE Infrared (IR) Array sensor Evaluation Kit – it combines the sensor with a Bluetooth module, both of which can then be deployed comfortably. The evaluation kit, furthermore, comes with a wide array of software libraries found at by clicking here.
Panasonic provides a wide variety of tutorial information on handling the device. Most of it can be accessed via the DigiKey portal found at https://www.digikey.com/catalog/en/partgroup/amg88-series/58939 – visit it to feast your eyes on datasheets, videos and more.
Finally, keep in mind that the 3V3 AMG8833 does not stand alone. The Panasonic AMG8834 is a low-gain version of the part, while the AMG8853 and AMG8854 are 5V infrared thermal sensors.
Author: Tam Hanna
Published: March 12, 2021