On Semiconductor's LM324DR2G
When the LM324 opamp showed up in our oemsecrets search trends, more than one engineer in our team was shocked - the 324 is one of the most beloved general-purpose operational amplifiers on the market.
A more detailed analysis of the issue, however, shows that not all versions of the LM 324 are affected. Instead, the discontinuation has hit only the part produced by ON Semiconductor. Visiting the website found by clicking here provides an even more detailed view shown in the figure.
Not all versions of the LM324 are discontinued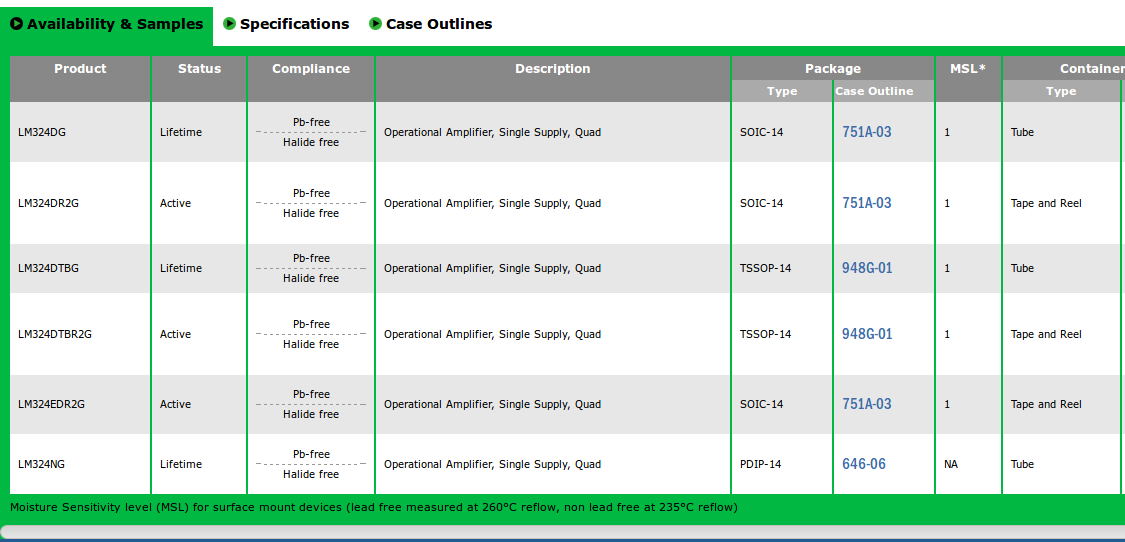 Instead, it looks like ON Semiconductor wants to get rid of the traditional Tube type packaging used for providing small amounts of operational amplifiers. This approach is sensible - nowadays, evem small companies such as the one owned by yours truly can afford pick and place machines which, normally, don't like being fed with components in tubes.
The part number LM324DR2G provides exactly the same part in a pick and place suitable form factor and is not affected - should you find yourself facing supply problems, it should be just a question of time until when distributors will break up the LM324DR2G tapes into smaller packages useful for-small-production runs.
Should you be unhappy with ON Semiconductor, you can also switch over to Texas Instruments. Their version of the LM324 has a slightly higher bandwidth, but can supply only 30 instead of the 40mA of output power.
Nevertheless, customers who absolutely need the LM324 in a tube are well advised to head over to oemsecrets now. As of this writing, distributors still have quite a few tubes of this popular op amp. If you don't purchase now, you might end up having problems later
Author: Tam Hanna
Published: March 12, 2021